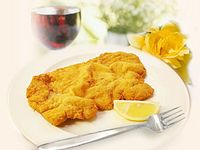 Making the Most of Schnitzel in Vienna
By HELEN CHANG , S ** PECIAL TO THE WALL STREET JOURNAL, June 13, 2008**
To the untrained eye, all Wienerschnitzel look the same. Broad, thin discs of breaded meat fried golden brown, appearing big enough to serve four.
In Vienna, they're ubiquitous: found in grocery stores, fast-food stands and on every menu whether the establishment is cheap or expensive, and regardless of the ethnicity of the cuisine being served. But the difference between good schnitzel and bad becomes obvious on first bite.
MAKE IT AT HOME
See a recipe for Wienerschnitzel As prepared by Chef Peter Lotz at Vienna's Gasthaus Seidl.
A well-done Wienerschnitzel is a study in contrasts. The panier — or coat of fried breadcrumbs — should be thin, crisp, dry and fluffy. The meat inside should be succulent and soft. "It is the harmony of the cutlet with the panier that has captured the Viennese, so that life without the Wienerschnitzel is no longer imaginable," says Helmut Oesterreicher, a Michelin-starred chef at Vienna's Oesterreicher im MAK.
Introduced to the Viennese from Milan in 1848, it has changed remarkably little since. Costoletta alla milanese was made with pounded veal, breaded and fried in butter, although many cooks today use vegetable oil.
The lemon that accompanies schnitzel — German for cutlet — was first intended to mask the taste of rancid meat. Though diners no longer have this worry, the citrus wedges still accompany every plate.
True Wienerschnitzel is made from veal, a lean yet delicate meat. The filet is cut from the leg, sliced against the grain and pounded thin to cook in seconds. A cheaper substitute is tougher and fattier pork (menus will specify this as Schnitzel vom Schwein), which many Viennese actually prefer for its stronger taste, says chef Peter Lotz at Gasthaus Seidl.
The most important factor contributing to the "optical quality" of schnitzel is the panier, says Harald Prochazka, general manager of Figlmüller's, which serves 350,000 schnitzel every year.
When well done, the panier should resemble a small mountain range of hills and valleys — the soufflé effect of the lightly beaten eggs into which the cutlet is dipped before it's fried.
An airy panier, as opposed to one that's glued down, is the result of using ample frying oil. While the schnitzel "swims" in oil at roughly 180 degrees Celsius, the cooking pan is constantly shaken to encourage the soufflé.
Finally, the panier should be grease-free. Viennese kitchen lore says that you should be able to sit on a schnitzel and get up without an oily spot on your pants.
For Paris-based architect Nasrine Seraji, a schnitzel fan who takes pictures of every one she has ever eaten, what makes the schnitzel is the combination of tastes and textures.
"The palate is confronted with several things at once," she says. Her favorite schnitzel is Café Anzengruber's, because of its thin, billowing panier, juicy pork cutlet, as well as the immaculate salad, which she says assuages her guilt of eating something deep-fried.
Among Viennese, most claim "Mein Schnitzel zu Hause ist das Beste" — my home-made schnitzel is the best. Still, here are five places in Vienna known for excellent schnitzel, each with their own characteristics.
Oesterreicher im MAK
This classic-style Wienerschnitzel at the restaurant at MAK, Vienna's applied and contemporary art museum, is generously souffléd, its savory panier lightly buttery. In your mouth, the crust initially registers as rough and sandpapery, but it quickly crumbles to reveal the delicate, moist veal inside.
Chef Helmut Oesterreicher serves it with classic accompaniments, extending what he calls "the harmony of the schnitzel to the salad." There are mache leaves, doused with dark, slightly bitter pumpkin seed oil, and syrupy, vinegared slices of potatoes, chopped red onion and a hint of sugar. Matching this interplay of flavors and textures is the sleek café and restaurant, furnished with Thonet chairs, a chandelier assembled from white glass wine bottles, and a wintergarden that glows with chartreuse floor lamps.
Stubenring 5; 43-1-714-0121
Figlmüller's
Visually, Figlmüller's claims the most stunning Wienerschnitzel in town. The cutlet is thin: 250 grams of veal stretched to titanic proportions about three millimeters thick. The relatively dense schnitzel are greaseless to the touch, a feat requiring quick hops between three frying pans.
The schnitzel drapes over the sides of your plate — a practice upheld even during the war years so customers had the impression they were getting their money's worth, says restaurant general manager Harald Prochazka. While the plate (roughly 25 centimeters in diameter) is slightly smaller than average, eating it all still requires fortitude.
Don't avoid it because of tourists, even locals are lured by Figlmüller's legendary thinness. "Otherwise, we make it at home," says Viennese local Burcu Grubhofer. Try the more tranquil Bäckerstrasse location with its elegant wood booths and labyrinthine rooms.
Bäckerstrasse 6; 43-1-512-1760
Café Anzengruber
Café Anzengruber's plain appearance belies a remarkable kitchen from which fluffy pork schnitzel materialize without fail. These are accompanied by boiled yellow potatoes speckled with green parsley, or a heap of mache, arugula and romaine lettuce with thinly sliced carrot, radish and cucumber.
In part, it is the restaurant's authenticity — the no-frills gray linoleum floor, polished wood booths and pool tables, all weighed down by a veil of smoke — that keeps crowds packing in every night. "The meat is very good, but it's mostly the atmosphere: schnitzel must be eaten in such surroundings because it's a local thing," says regular Andrea Roedig.
Football fans in town for the Euro 2008 matches are in good company here. Game nights find football fans huddled in a darkened side-room, howling before a giant flat-screen TV.
Schleifmühlgasse 19; 43-1-587-8297
Gasthaus Seidl
The pork schnitzel at local politicians' haunt Gasthaus Seidl is fried in clarified butter for an extra-rich taste. Chef Peter Lotz slices the cutlets only as they are ordered, so the relatively lean cuts retain their moisture. More than 500 wines are on offer, including the locally grown white, Grüner Veltliner, that is traditionally paired with schnitzel. (After dinner, try one of the 100 varieties of schnapps.) On weekends owner Franz Seidl jaunts through Austria's wine regions to expand his award-winning wine collection for this small, doily-decorated restaurant. His focus is on rare, lesser-known and smaller vintages.
Ungargasse 63; 43-1-713-1781
Schloss Concordia
If you weary of tradition, visit Schloss Concordia, a café and literary salon adjacent to the city's central cemetery. You'll know it by the giant, campy Jesus statue standing in front; the usual rules don't apply here for schnitzel, either.
In the "Original Concordia Superschnitzel," an almost transgressive-sounding mix of lentils, salami and cheese is stuffed in a pork roulade, spackled with cornflakes, then fried to a deep bronze. The mostly local clientele tucking into these torpedo-shaped schnitzel know the combination is glorious.
Other creations include the New Yorker, filled with sausage and bacon and fried in a coat of popcorn, and the more subtle Karl Valentin, stuffed with bread dumplings, peas and ham, and served with spicy, grated horseradish.
Concordia Superschnitzel: Simmeringer Hauptstrasse 283; 43-1-769-8888
* * *
Wienerschnitzel
As prepared by Chef Peter Lotz at Vienna's Gasthaus Seidl
Yield : 4 servings

Gasthaus Seidl
4 slices of veal, about 150 grams each (substitute pork for Schnitzel vom Schwein)
1 cup flour
1-2 eggs, beaten
1 cup fine breadcrumbs
Clarified butter (can substitute vegetable oil)
1 lemon
Wash and dry the meat. Gently pound the meat to a thickness of 2-3 millimeters, but be careful not to make holes.
Separate the flour, beaten eggs and breadcrumbs into three different dishes. Dredge one slice of meat in the flour until completely coated. Shake off excess flour and dip the meat in the beaten eggs to coat. Gently cover the meat with breadcrumbs. Note: Don't press the breadcrumbs into the meat, or the coating won't soufflé (i.e. the breading will not rise off the meat while frying).
Repeat for every slice and set aside. Do not pile the cutlets on top of each other.
Heat clarified butter in a frying pan to the depth of about four centimeters the schnitzel should be able to "swim." When the butter is 170 to 180 degrees Celsius hot – but not sizzling - slowly lay in the schnitzel, beginning with the edge nearest you to avoid splattering. Don't crowd the cutlets.
Fry on both sides about a minute each, flipping once and shaking the pan gently, which helps the breading soufflé. Don't let the heat get to high or the coating will burn before the meat is done. The schnitzel is ready when the coating is a medium brown and soufflé.
Drain schnitzel on a paper towel. Serve with a quarter lemon.