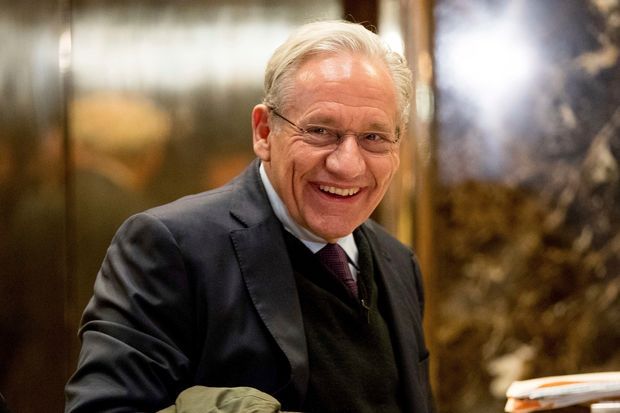 Among a political class of overreactors, the president resisted panic.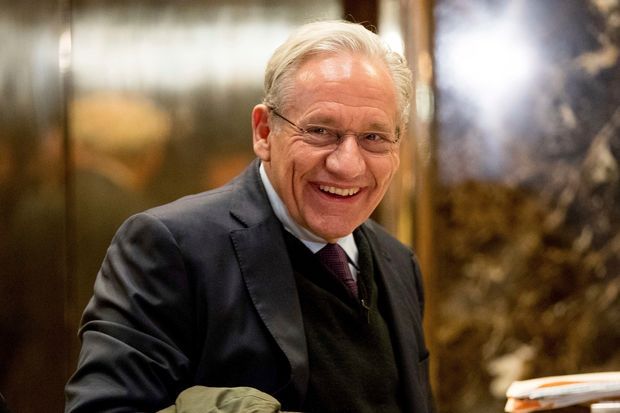 Washington Post associate editor Bob Woodward arrives at Trump Tower in New York in January of 2017.
Photo: Andrew Harnik/Associated Press
Thank goodness President Trump resisted the most panicked authoritarian responses to Covid-19 imposed by some U.S. governors. But he's now facing questions over a Feb. 7 interview, included in a new Bob Woodward book, in which Mr. Trump said that Covid was deadlier than the flu.
Much of the press corps is attacking Mr. Trump on the grounds that the comments painted a more dire picture than he was sharing publicly at the time. A number of journalists are also questioning why Mr. Woodward didn't publish the comments at the time, given that they might have improved public understanding of the new infectious threat. To address this latter question, Mr. Woodward spoke to his Washington Post colleague Margaret Sullivan, the newspaper's media columnist. She writes:
In February, what Trump told Woodward seemed hard to make sense of, the author told me — back then, Woodward said, there was no panic over the virus; even toward the final days of that month, Anthony S. Fauci was publicly assuring Americans there was no need to change their daily habits.
Let's hope that promoting a sense of panic is not the test of whether a leader is seriously addressing a national issue. But was it really so hard to comprehend the President's comments? The interview occurred a week after Mr. Trump had imposed restrictions on travel between the U.S. and China. The day after the new Trump travel policy was announced, former Vice President Joe Bidentweeted:
We are in the midst of a crisis with the coronavirus. We need to lead the way with science — not Donald Trump's record of hysteria, xenophobia, and fear-mongering. He is the worst possible person to lead our country through a global health emergency.
In hindsight, the Trump travel restrictions seem eminently sensible and the same could be said for the restrictions on travel he subsequently imposed on Europe. Do presidents typically order flight cancellations over illnesses they believe to be less deadly than the flu?
The day before the Woodward interview, Laurent Thomet of Agence France-Presse reported:
A Chinese doctor who was punished after raising the alarm about China's new coronavirus died from the pathogen on Friday, sparking an outpouring of grief and anger over a worsening crisis that has now killed more than 630 people... Chinese President Xi Jinping and US President Donald Trump, whose countries have tussled over trade and human rights, spoke on the phone about the health emergency on Friday... Beijing has been angered by bans on arrivals from China instituted by the United States and other countries, accusing Washington of spreading "panic".
So at least according to the thugs who run China, Mr. Trump was meeting the Woodward standard of appropriate panic inducement. Two days after the Woodward interview, Raymond Zhong and Edward Wong of the New York Times reported:
Chinese officials have criticized the United States both for evacuating Americans from China and for imposing travel curbs, saying that such moves could spread panic. On Friday, Mr. Trump and Secretary of State Mike Pompeo appeared to be trying to ease tensions. Mr. Pompeo said the United States was prepared to spend up to $100 million to help China and other countries fight the epidemic. Mr. Pompeo also said the State Department had helped transport about 18 tons of donated medical supplies, including masks, gowns and gauze, to China in the past week.
How often do U.S. secretaries of state make such announcements regarding illnesses they deem to be less severe than the flu?
In hindsight of course we can say that Covid is more deadly than any recent severe flu season for the elderly but less deadly for children. In hindsight we also know that the month after the Woodward interview, Dr. Fauci and the political class reached a consensus on the need to panic based on a wild overestimate of U.S. deaths from Imperial College London.
The resulting lockdown recommendations, made without benefit of cost-benefit analysis, were hugely destructive and yielded uncertain benefits. Jurisdictions with strict lockdowns in some cases have fared worse than places with modest ones. Mr. Trump reluctantly joined the consensus but not for long and has generally favored allowing the economic activity that sustains all health care and all life.
Children have suffered the most from the political panic. A new OECD report by Eric A. Hanushek and Ludger Woessmann states:
While the precise learning losses are not yet known, existing research suggests that the students in grades 1-12 affected by the closures might expect some 3 percent lower income over their entire lifetimes. For nations, the lower long-term growth related to such losses might yield an average of 1.5 percent lower annual GDP for the remainder of the century. These economic losses would grow if schools are unable to re-start quickly. The economic losses will be more deeply felt by disadvantaged students. All indications are that students whose families are less able to support out-of-school learning will face larger learning losses than their more advantaged peers, which in turn will translate into deeper losses of lifetime earnings.
As tragic as this legacy of impoverishment will be for many people around the world in the future, severe lockdown-related health problems are here right now. In the U.S., state and local governments have conducted a massive experiment, which involved persuading Americans to accept two weeks of distancing to flatten the curve of infection but ended up imposing months-long social isolation.
The Journal's Jon Kamp and Arian Campo-Flores report on just one of the societal impacts:
The pandemic has destabilized people trying to maintain sobriety or who are struggling with addiction during a time of increased social isolation and stress, according to treatment providers and public-health authorities. In a survey of U.S. adults released by the Centers for Disease Control and Prevention, 13% of respondents in June said they had started or increased substance use to deal with stress or emotions related to Covid-19... The Journal, through data and public-records requests, asked the 50 largest counties by population for information on overdoses this year. Among the 30 that provided numbers, 21 of them showed overdose deaths trending up from last year. Among the other jurisdictions, several had only prepandemic data, and some said overdose tallies were flat or trending lower.
America would have been better off if more politicians had been as reluctant as the president to surrender to panic.