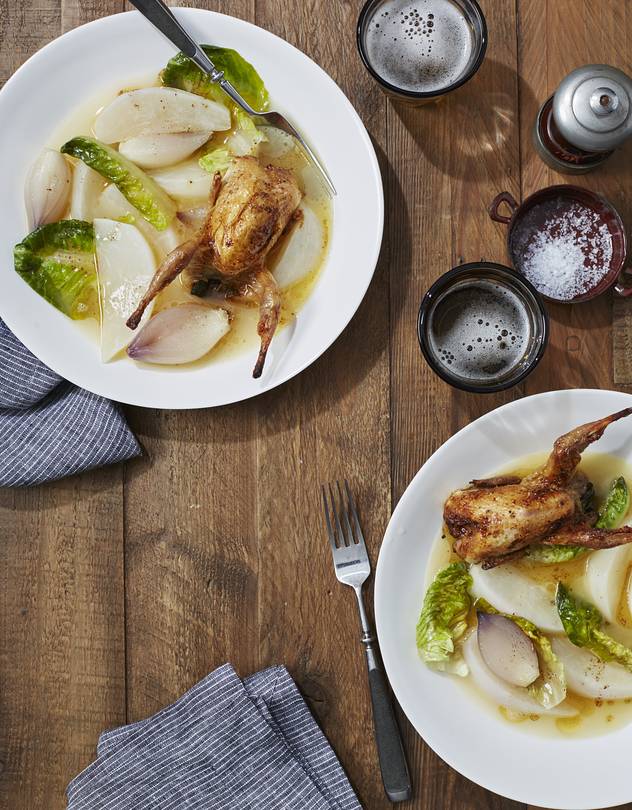 Quick-roasting quail makes a delicious meal any night of the week. This recipe from the Marksman in London adds succulent braised turnips, wilted lettuce and a sweet-savory broth made with dry cider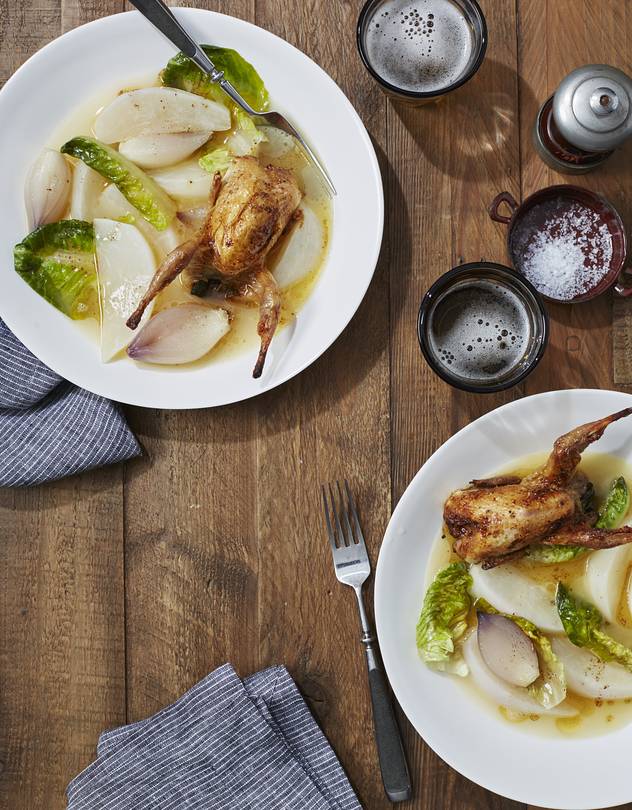 HOT HEAD Little Gem lettuce has juicy, substantial leaves that sweeten nicely with a very quick braise. Photo: Marcus Nilsson for The Wall Street Journal, Food Styling by Laura Rege, Prop Styling by Vanessa Vazquez
By Kitty Greenwald, Feb. 28, 2019 2:01 p.m. ET
The Chefs: Tom Harris and Jon Rotheram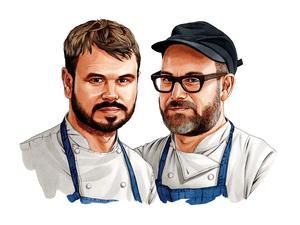 Photo: MICHAEL HOEWELER
Their restaurant: Marksman Public House, London
What they're known for: Celebrating British food and pub culture in their own neighborhood. Making everything from butter and bread to smoked fish in-house.
FOUR YEARS AGO, when chefs Tom Harris and Jon Rotheram reopened the old Marksman Public House in London's East End, they were judicious with their updates. "You don't change a pub's name," said Mr. Harris. "It's bad luck." They left the wood-paneled interior on the main floor alone, though they did create a modern dining room upstairs. And the kitchen underwent a transformation that earned them the Michelin pub of the year award in 2017.
The chefs' first Slow Food Fast recipe is classic Marksman: unfussy to the point of minimalist, abundantly appealing. "This is the food of our childhoods," said Mr. Rotheram. Roast quails rest on a bed of braised turnips, shallots and Little Gem lettuce. Anchovies bring a savory bass note to the broth of cider, stock and butter infused with bay leaves and cloves.
As the birds roast, the butter they're rubbed with browns delectably. "Roast these on high so the skin crisps and the inside stays juicy," said Mr. Harris. "Then let them rest so the residual heat finishes cooking them through."
A small farm outside the city supplies the Marksman with all its produce. Your local grocery should carry everything called for here, though romaine can stand in for Little Gem if need be. "You want small turnips with thin skins. If they're very fresh, you don't need to peel them," Mr. Harris said. Braised in that fragrant broth, they become succulent, sweet and simply delicious.
TOTAL TIME: 30 minutes SERVES: 4
4 quails
Kosher salt and freshly ground black pepper
4 tablespoons butter
8 sage sprigs
4 cloves garlic
6 shallots, peeled and cut into wedges
3 turnips, peeled and cut into wedges
4 anchovy fillets
¾ cup dry hard cider
3 bay leaves
3 cloves
1 cup chicken stock
1 head Little Gem lettuce, cored, leaves separated
Preheat oven to 375 degrees. Season quails with salt and pepper and arrange in a small roasting pan. Rub half the butter over quails and tuck 2 sage sprigs and 1 garlic clove under wings of each bird. Roast until well browned on underside, about 15 minutes. Flip, and roast until cooked through but blush at center and legs wiggle easily, about 5 minutes more.

Meanwhile, in a medium pot over medium heat, combine turnips, anchovies, cider, bay leaves, cloves, stock and remaining butter. Simmer until broth reduces and turnips are tender but offer some resistance at center when pierced, about 15 minutes. Stir in lettuce and simmer until wilted, about 2 minutes. Season with salt.

To serve, spoon braised vegetables and broth into individual shallow bowls. Place quails on vegetables and spoon pan juices over top.