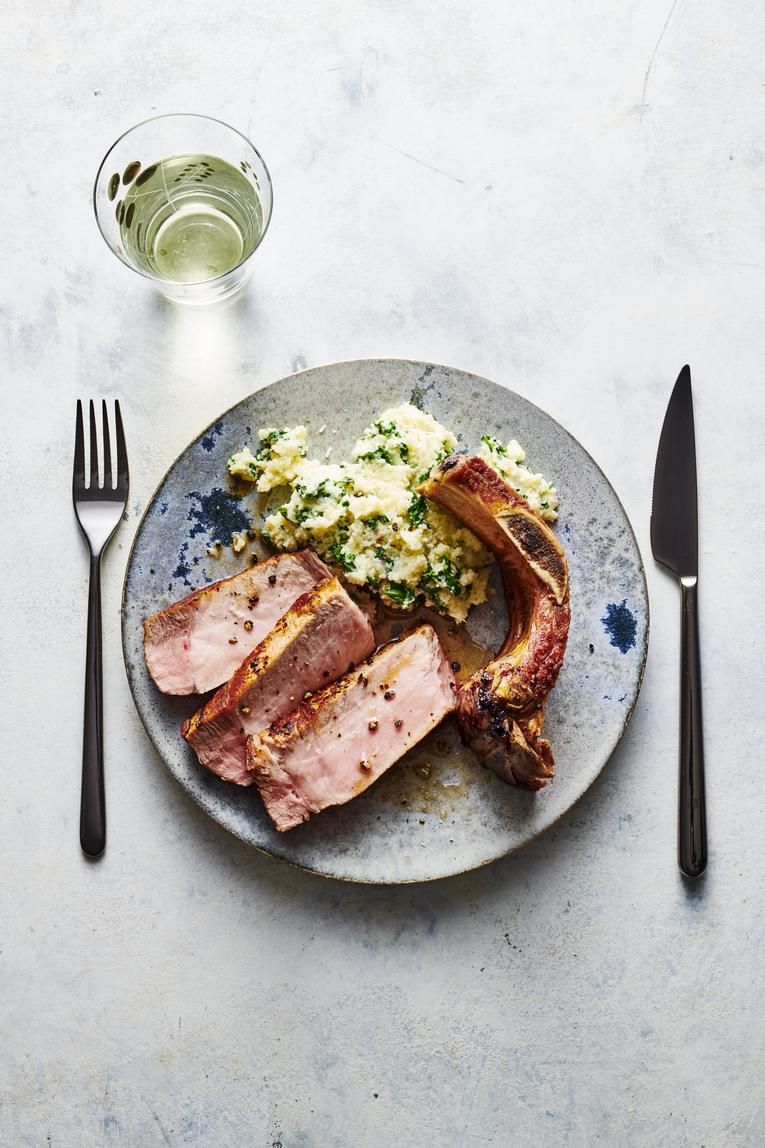 Maybe you think of frozen food as over-processed and overpriced, a wasteland of pizza rolls and tater tots. If so, may I suggest a stroll down your supermarket's iciest aisle? There, a new wave is cresting. According to recent figures released by Nielsen and Acosta, a Florida-based sales and marketing research group, respectively, year-to-year sales of frozen vegetables jumped 4.5% in 2017, and 32% of shoppers polled planned to buy more frozen food in the coming year. Among their motivations: making meals more healthful, convenient and less wasteful.
A recent study conducted by scientists at the University of California, Davis suggests that most fresh produce is no more nutrient-rich than frozen. What's more, especially outside prime harvest season, frozen vegetables, fruit and fish are often the more economical and sustainable choice. You know the pit you get in your stomach when you open the fridge and realize you have to toss a $5 bunch of Swiss chard you let wither to mush? That doesn't happen with the frozen stuff.
"I almost never buy fresh salmon. I just don't see the point," said Paul Greenberg, a seafood industry expert and author of the books "Four Fish," "American Catch" and "The Omega Principle." According to him, blast freezing technology has improved so much the seafood you buy frozen is often more pristine than anything at the fish counter. "The truth is that a lot of consumers wind up eating frozen fish without realizing," he added. "If you're buying Alaskan salmon in the dead of winter, there's no way it's fresh—it has just been defrosted to go into the fish case." So why not buy fish frozen and stash it away, preserved at peak quality, until you're ready to cook it?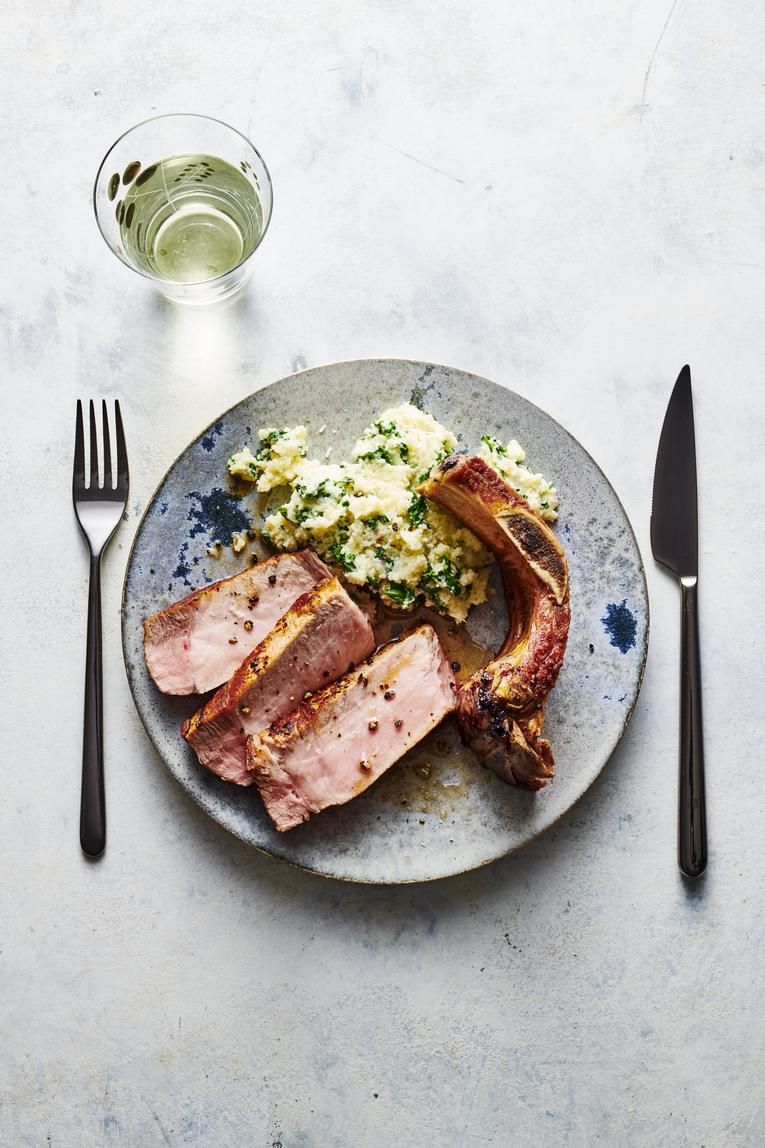 Seared Pork Chops Photo: TED + CHELSEA CAVANAUGH FOR THE WALL STREET JOURNAL, FOOD STYLING BY JAMIE KIMM, PROP STYLING BY CARLA GONZALEZ-HART
Mr. Greenberg further pointed out that fresh food, unlike frozen, is often shipped via air freight, which has a much larger carbon footprint than marine transport. Factor in all it takes to get Alaskan seafood to your supermarket in February, and you realize "fresh" isn't always best, or even particularly fresh.
Because I'm not a planner by nature, defrosting has always been a bugaboo. I knew if I wanted to get more out of my freezer, I'd need a new approach. Were there hacks I'd missed? Ingredients I'd overlooked?
One of my first calls was to Ann Taylor Pittman, a recipe developer, writer and, as the longtime executive editor of Cooking Light magazine, an expert on speedy, healthy eating. "For a long time, I wasn't smart about my freezer either," she told me with a laugh. "Now, instead of using it to store 10 pounds of chicken thighs, I try to think of it more as a tool for meal-prepping."
For Ms. Pittman that means making double batches of rice or farro and freezing leftovers in baggies, to use later for last-minute grain bowls, soups and stir-frys. When she buys nuts, Ms. Pittman toasts the whole lot at once and stashes the lion's share in the freezer. "My theory is, while I'm at it, I might as well do it all," she said. "And I'm so happy when I want to finish a pasta dish or a salad with toasted walnuts and there they are"—completely crunchy even after freezing and thawing. And, she added, having a pantry of frozen produce to draw upon can be a painless way to get more vegetables on the table.
"I see the freezer as a great source of creativity," said Amy Thielen, Minnesota-based chef and author of "The New Midwestern Table" and "Give a Girl a Knife." Ms. Thielen, who buys and butchers a whole pig from a local farmer every year and tends a prolific kitchen garden, is devoted to her two chest freezers. She fills them with vacuum-packed sausages, raspberries and cranberry beans, among other treasures. "In the fall, I'm like a squirrel storing my nuts," she said. "And in the winter, it makes me feel kind of rich—like I can just go wild."
" 32% of shoppers polled said they plan to buy more frozen food in the coming year. "
Inspired, I grabbed a sack of frozen fava beans in my local Italian market. They saved me the fiddly shelling, and when I stirred the favas into a simple risotto, the results were so bright and tender I forgot that spring was months away. Another day, I spread still-frozen okra on a baking sheet and roasted it until crisp at the edges before folding it into a curry-scented tomato gravy and spooning it over a hill of basmati pilaf. The entire process took no longer than dialing for delivery, and the dish was so comforting it has earned a permanent spot in my rotation of easy meatless meals.
The FDA recommends consuming eight to 12 ounces of seafood per week; would a stash of frozen wild cod filets get my family closer to our goal? One chilly Saturday, I reached into the freezer for some filets and a package of frozen gnocchi I'd long neglected. To an aromatic broth with spicy sausage, garlic, wine and chopped tomatoes, I added the gnocchi and a few hunks of cod, along with some clams. The result was one part seafood pasta, one part chowder and entirely delicious.
A true game-changer awaited in "Modernist Cuisine At Home," Nathan Myhrvold's mad-scientist guide for home cooks. Its radical recipe for "low temp steak" called for searing quickly and roasting in the oven—straight from frozen. The technique is like one championed by H. Alexander Talbot and Aki Kamozawa, the husband-and-wife team behind the blog Ideas In Food and authors of the books "Ideas in Food" and "Maximum Flavor." Mr. Talbot happens to be a former schoolmate of mine, so I gave him a ring to see if the method was more than mere stunt.
Mr. Talbot and Ms. Kamozawa turned out to be freezer evangelists. Did I know that if you freeze oysters or clams, they open on their own as they thaw, making them easy to shuck with a spoon? Had I heard of "cryo-blanching," a process of freezing and thawing produce that yields bright flavors and tender textures? On cooking meat straight from the freezer, Mr. Talbot was unequivocal: "I love cooking frozen steaks." Ice crystals in the meat tenderize it, he said, and low-temperature roasting makes overcooking all but impossible. I wondered, could the same technique apply to any sort of chop?
To find out, I placed two thick bone-in pork chops on a quarter sheet pan and froze them overnight. Next, I heated the oven to 200 degrees and set a cast-iron skillet on the stove until it was screaming hot. I seared the chops until nicely burnished, then transferred them to a baking sheet and slid them, still frozen, in to roast. Forty-five minutes later, a clean slice through the crusty exterior revealed a pink, juicy interior—nothing less than a triumph.
No-Thaw Pork Chops with Kale-Cauliflower Mash
TOTAL TIME 1¼ hours SERVES 4
For the pork chops:
3 (1½-inch-thick) frozen bone-in pork rib chops (about 2 pounds total)
2 tablespoons vegetable oil
Kosher salt and freshly ground black pepper
For the kale-cauliflower mash:
20 ounces frozen cauliflower florets
2 tablespoons unsalted butter
Kosher salt
¾ cup sour cream
1½ cups frozen chopped kale
Freshly ground black pepper
Preheat oven to 200 degrees. Brush pork with oil and season generously with salt and pepper.

Heat a large skillet (preferably cast-iron) over high heat until extremely hot, 8-10 minutes. Working with one pork chop at a time, carefully place chop into skillet and sear until crusty and deeply golden underneath, about 3 minutes. Transfer, seared-side up, to a rimmed baking sheet. Repeat with remaining chops, wiping out pan as necessary. Transfer baking sheet to oven and roast chops until a thermometer inserted into thickest part of meat reads 135-140 degrees, 40-45 minutes.

Meanwhile, prepare kale-cauliflower mash: In a food processor or blender, pulse cauliflower florets until crumbly, about 45 seconds. In a medium pot over medium heat, melt butter. Add crumbled cauliflower and cook, stirring occasionally, until cauliflower starts to soften and looks slightly translucent, about 5 minutes. Add enough water to just cover cauliflower. Season with salt. Bring to a boil and reduce heat to maintain a low simmer. Cook until cauliflower is tender, about 5 minutes, then drain off water. Return pan to stove and use a potato masher or sturdy fork to mash cauliflower until nearly smooth. Stir in sour cream. Add kale and cook over medium-low heat, stirring occasionally, until kale is soft and mash is warmed through, 3-4 minutes. Season to taste with salt and pepper.

Remove pork chops from oven and let rest on baking sheet 10 minutes. (Internal temperature should continue rising to about 145 degrees while resting, leaving the meat juicy and pink.) Thinly slice pork against the grain. Season with salt and pepper and serve with kale-cauliflower mash.
Straight-From-the-Freezer Bhindi Masala with Basmati Pilaf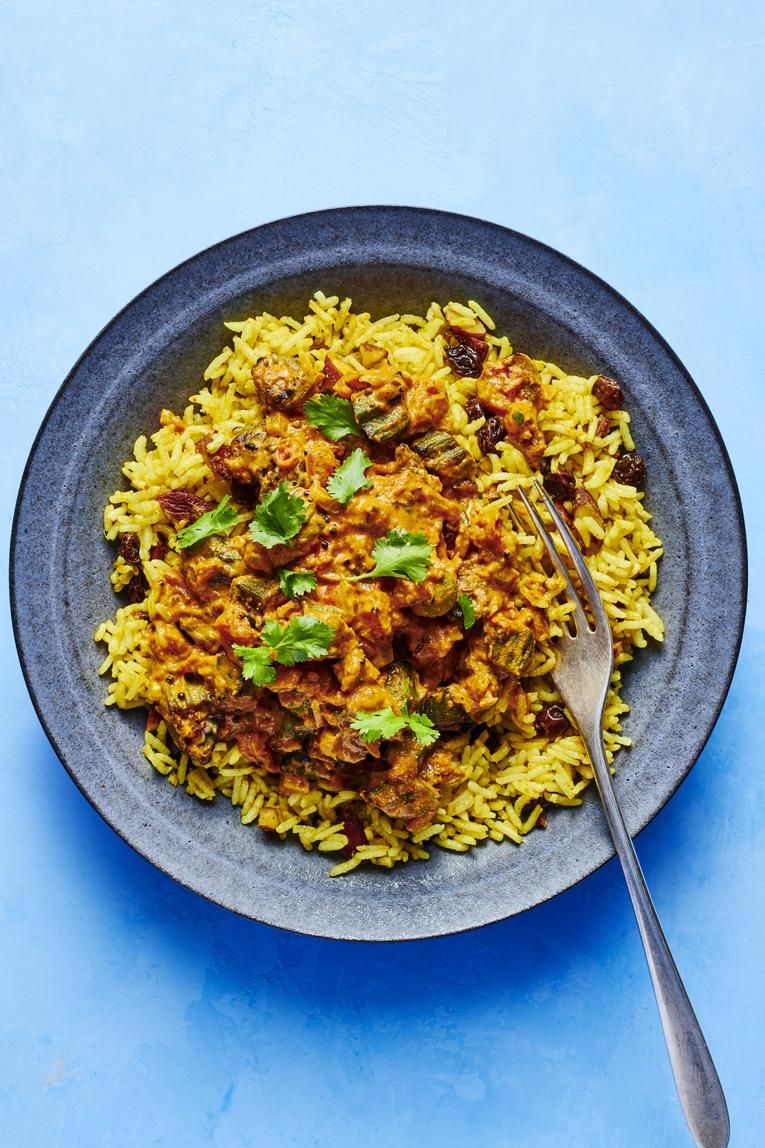 Photo: TED + CHELSEA CAVANAUGH FOR THE WALL STREET JOURNAL, FOOD STYLING BY JAMIE KIMM, PROP STYLING BY CARLA GONZALEZ-HART
TOTAL TIME 45 minutes SERVES 4
For the basmati pilaf:
¾ cup raw almonds, coarsely chopped
4 cups cooked basmati rice
1 lemon, zested
¼ cup currants
1 tablespoon extra-virgin olive oil
¼ teaspoon mild curry powder
Kosher salt and freshly ground black pepper
For the bhindi masala:
16 ounces frozen cut okra
4 tablespoons olive oil
1½ teaspoons garam masala
Kosher salt and freshly ground black pepper
1 teaspoon mustard seeds
1 teaspoon cumin seeds
1 yellow onion, diced
4 large cloves garlic, minced
1 (1½-inch) piece fresh ginger, peeled and finely minced (about 1 tablespoon)
¼ teaspoon cayenne
½ teaspoon turmeric
2 tablespoons tomato paste
1 (14-ounce) can diced tomatoes
¼ cup heavy cream
¼ cup whole-milk yogurt
¼ cup water
Kosher salt and black pepper
2 tablespoons chopped cilantro leaves, for garnish
Make the basmati pilaf: In a medium skillet, toast almonds over medium-high heat, stirring constantly, until golden, 1-2 minutes. Stir in rice, lemon zest, currants and olive oil. Stir in curry powder and season generously with salt and pepper. Cook, stirring occasionally, until rice is heated through and currants are soft, about 6 minutes. Turn off heat, cover and keep warm until ready to serve.

Make the bhindi masala: Position a rack in upper third of oven and preheat to 450 degrees. Line a baking sheet with parchment paper. In a medium bowl, toss okra with 2 tablespoons olive oil and 1 teaspoon garam masala. Season with salt and pepper. Spread mixture onto prepared baking sheet in an even layer. Roast until okra is tender at center and browned and crisp at edges, about 35 minutes. Set aside.

Meanwhile, in a large skillet, heat remaining oil over medium heat. Once hot, add mustard and cumin seeds, and cook until seeds begin to sizzle and pop, about 2 minutes. Stir in onion, garlic and ginger. Cook until soft and sticky, 3-4 minutes. Stir remaining garam masala, cayenne, turmeric and tomato paste into onion mixture, and sauté until spices are fragrant and tomato paste is dark and sticky, about 2 minutes. Stir in tomatoes and cream, using a wooden spoon to scrape up any browned bits from bottom of pan. Reduce heat to low, and stir in yogurt and water. Fold in roasted okra and season with salt and pepper.

To serve, spoon bhindi masala over basmati pilaf and garnish with cilantro.
Spicy Seafood Chowder with Gnocchi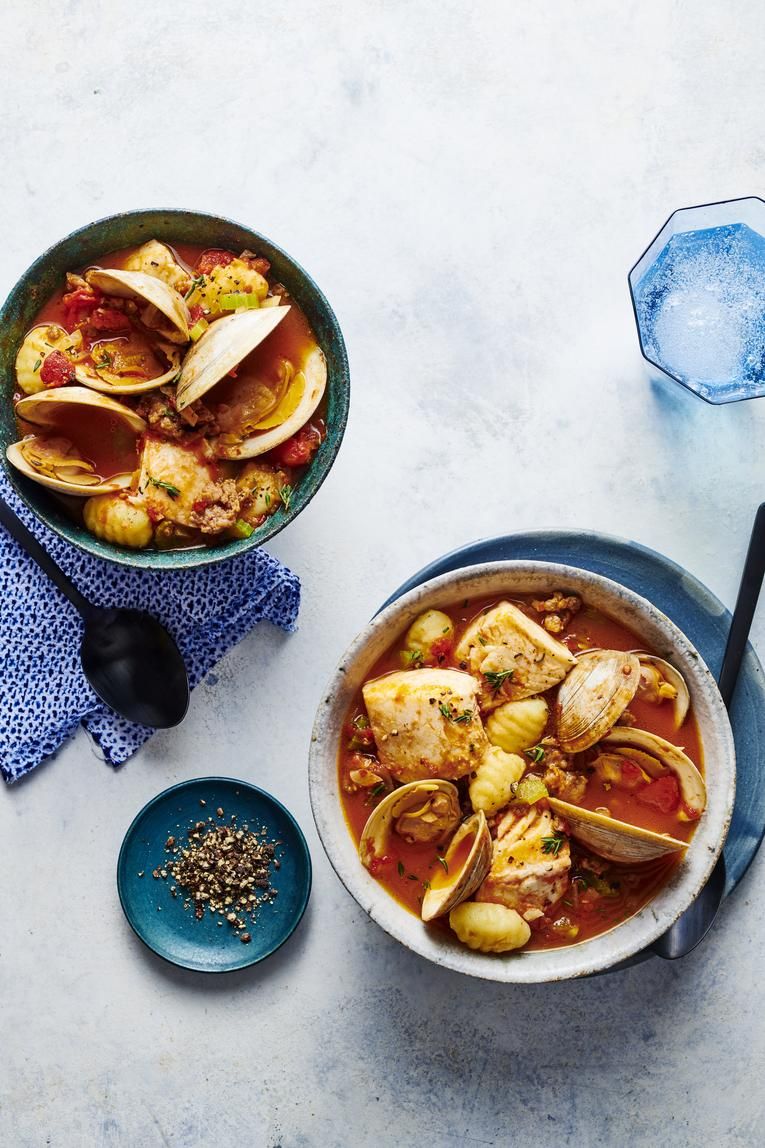 Photo: TED + CHELSEA CAVANAUGH FOR THE WALL STREET JOURNAL, FOOD STYLING BY JAMIE KIMM, PROP STYLING BY CARLA GONZALEZ-HART
TOTAL TIME: 30 minutes SERVES 6
1 tablespoon extra-virgin olive oil
2 links (about 7 ounces) spicy Italian sausage or chorizo, casing removed and crumbled
1 large yellow onion, finely diced
4 large garlic cloves, minced
2 ribs celery, halved lengthwise and finely chopped
2 sprigs fresh thyme, plus more for garnish
1 sprig fresh rosemary
3 cups clam juice
½ cup white wine
1 (14-ounce) can diced tomatoes, with liquid
1 (16 ounce) package frozen or shelf-stable potato gnocchi
16 littleneck clams
1 pound frozen firm, white-fleshed fish such as cod or halibut, cut in 1 ½-inch pieces
Kosher salt and black pepper
In a large heavy bottomed pot or Dutch oven, heat oil over medium heat. Add sausage and cook, stirring occasionally, until crumbly and lightly browned, about 5 minutes. Add onions, garlic and celery, and continue cooking, stirring occasionally, until soft and fragrant, about 5 minutes more. Add herbs, clam juice, white wine and tomatoes. Stir to combine and bring to a simmer.

Drop gnocchi into pot and cook, stirring occasionally, until gnocchi begin to float to surface, about 2 minutes. Stir in clams and fish and simmer, covered, until clams have opened fully and fish is opaque, about 4 minutes. Reduce heat to low. Remove thyme and rosemary sprigs, then stir to combine. Season generously with salt and pepper to taste. To serve, ladle into bowls and garnish with thyme leaves.
MAXIMUM COOL / The Gear You'll Need to Optimize Your Freezer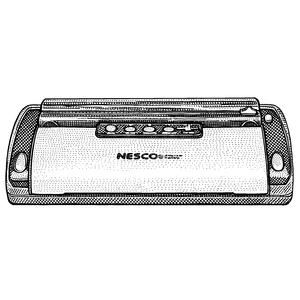 Locks in Freshness
Nesco VS-02 Vacuum Sealer, $90, nesco.com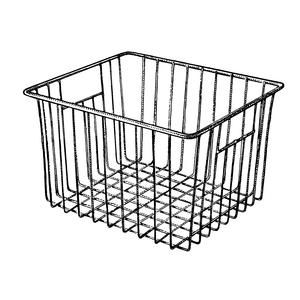 Maximizes Freezing Space
Sanno Freezer Storage Organizer Basket, $22 for 2, amazon.com
The Best Fit for Most Freezers
Naturals Baker's Quarter Sheet Pan, $24 for 2, nordicware.com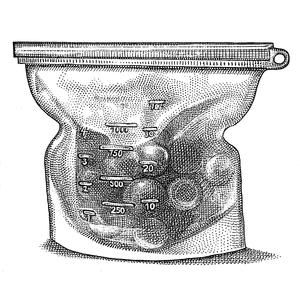 No-Waste Storage
Homelux Reusable Silicone Food Storage Bags, $26 for 4, amazon.com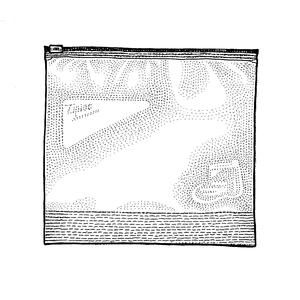 The No-Brainer Version
Ziploc Slider Bags, $14 for 96 gallon-size bags, amazon.com
The Wall Street Journal is not compensated by retailers listed in its articles as outlets for products. Listed retailers frequently are not the sole retail outlets.