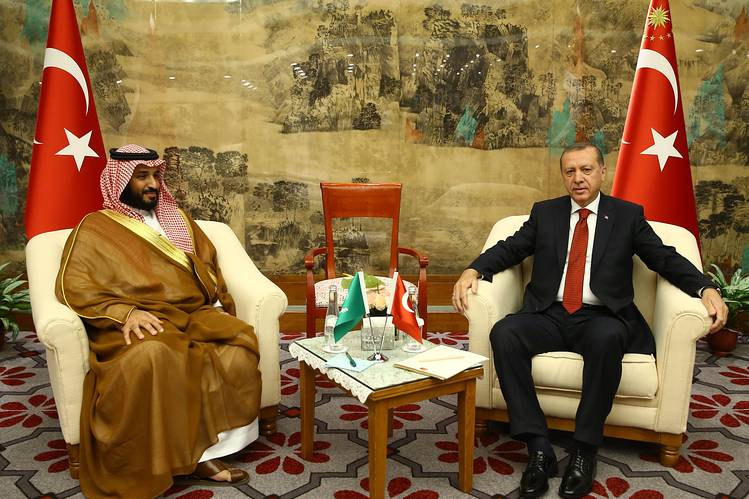 The Long Struggle for Supremacy in the Muslim World
In the wake of Mr. Khashoggi's killing, Mr. Erdogan proclaimed that Turkey "is the only country that can lead the Muslim world." This, of course, is also the role that the House of Saud sees as its natural right because of the kingdom's control over Islam's holiest sites in Mecca and Medina, and over the hajj pilgrimage that brings more than two million Muslims there each year.
In this contest, Iran—whose Shiite version of Islam represents a small minority of the predominantly Sunni Muslim world—can't really compete. For now, Tehran is happy to watch from the sidelines as its two main regional rivals undermine each other and leave Western powers with few good options for how to react.
Saudi Arabia's 33-year-old Crown Prince Mohammed bin Salman has tried to assert Riyadh's ambition to lead the Middle East ever since his father ascended to the throne in 2015. In a major departure from Saudi Arabia's previous policy of behind-the-scenes checkbook diplomacy, Prince Mohammed has built a coalition of Sunni states such as the United Arab Emirates and Egypt to launch a war against Iranian allies in Yemen. He imposed an embargo that unsuccessfully sought regime change in Qatar. He also attempted to meddle in Lebanese politics by forcing that nation's prime minister to announce during a stay in the kingdom that he would resign, a decision that the prime minister rescinded once he was home.
Saudi Arabia and its allies also have relentlessly pursued the Muslim Brotherhood, an Islamist political movement hostile to U.S. influence in the region (its affiliates include Hamas). Though professing a commitment to democracy under Islamic law, the Brotherhood has turned autocratic when in power in Egypt and Sudan. Mr. Erdogan has supported the group across the Arab world since the 2011 revolutions of the Arab Spring, and Mr. Khashoggi was sympathetic to some of its aims.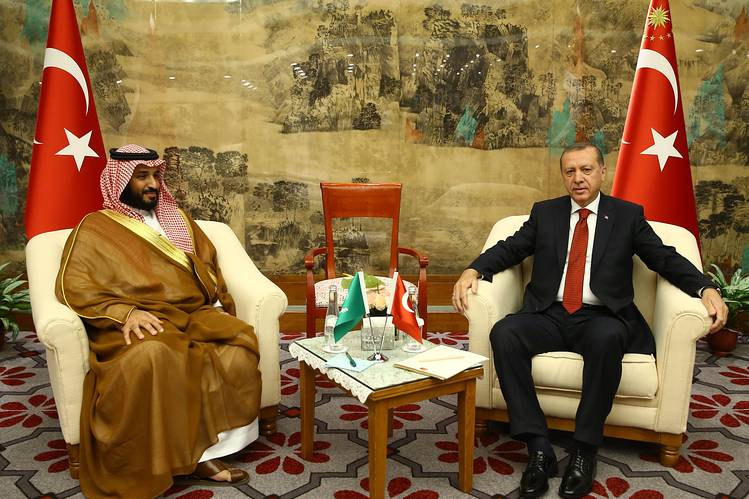 In a friendlier moment, Turkish President Recep Tayyip Erdogan (right) met Prince Mohammed bin Salman at the G-20 summit in Hangzhou, China in 2016. Photo: Kayhan Ozer/Anadolu Agency/Getty Images
Mr. Erdogan has made several efforts to resist Saudi Arabia's rise. He sent Turkish troops to protect Qatar, ousted Saudi allies from Somalia and announced a deal to lease an island across the Red Sea from Saudi Arabia in Sudan, possibly for a military base. He has also become a vociferous champion of traditional Muslim causes, such as Palestine, and of new ones, such as the suffering of the Rohingya in Myanmar. Istanbul has turned into a favorite hub for Islamist dissidents from across the Arab world.
"The Turkish president's foreign policy strategy aims to make Muslims proud again," said Soner Cagaptay, a scholar at the Washington Institute for Near East Policy and the author of a recent biography of Mr. Erdogan, "The New Sultan." "Under this vision, a reimagined and modernized version of the Ottoman past, the Turks are to lead Muslims to greatness."
' Turkey is the main reason that the previous two Saudi states ceased to exist. '
There is a long history behind that claim. For four centuries, the sultan in Istanbul was also the religious leader, or caliph, of the entire Muslim world. His spiritual authority was recognized well beyond the borders of the Ottoman Empire, which at its peak included parts of central and eastern Europe, north Africa and the Arabian peninsula.
The caliphate was abolished only in 1924, six years after the Ottomans lost control over Mecca and Medina to a British-sponsored Arab revolt during World War I. The modern, secular Turkish Republic, which rose from the remnants of the Ottoman Empire after its defeat by the Allied powers, banished the last sultan, Mehmed VI, to Europe in 1922. With the Ottomans gone, the House of Saud quickly expanded from its desert strongholds to much of the Arabian peninsula, first capturing Mecca and then establishing a powerful new state in 1932.
Mr. Khashoggi, as it happens, hailed from a Turkish family that settled in Arabia in the Ottoman age—which is why Turkish newspapers usually spell his surname the Turkish way as Kasikci, which means a spoon maker, to signal his kinship with the country.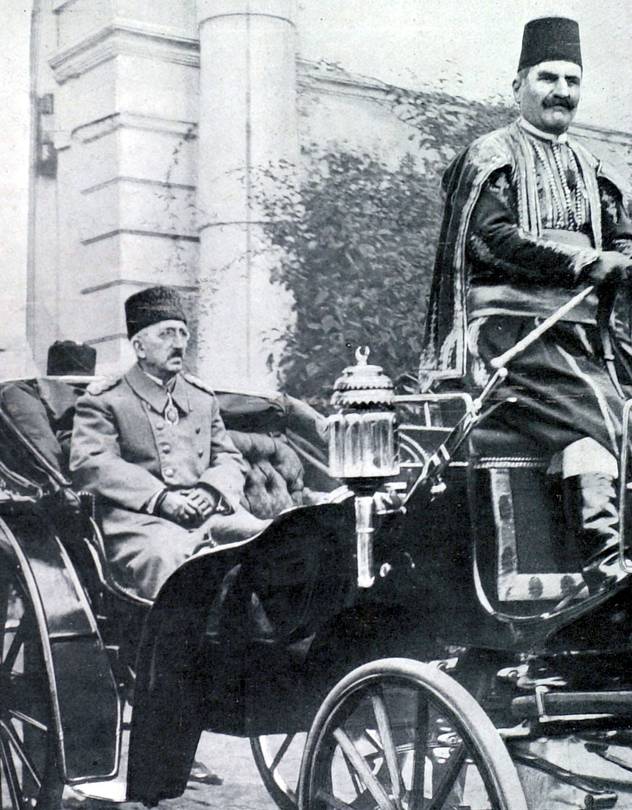 The Ottoman Empire's last Sultan, Mehmed VI, seen in Turkey in 1922, shortly before he was banished and fled to Malta. Photo: Getty Images
Until Mr. Erdogan's embrace of neo-Ottoman politics—and more authoritarian rule—a decade or so ago, the modern Turkish state wasn't much interested in leading the Muslim world and was content to leave religious proselytizing to Saudi Arabia. Turkey joined NATO, sought membership in the European Union and nurtured close military links with Israel.
Mr. Erdogan's new Turkey, by contrast, presents a major challenge to Saudi Arabia by offering an alternative Islamic model, said Madawi al Rasheed, a Saudi professor at the London School of Economics and the author of a history of Saudi Arabia. "It is an existential threat to Saudi Arabia because of Turkey's combination of Islam and a kind of democracy," she said. "After all, Erdogan is still ruling over a republic that has a parliament, opposition parties and a civil society—while Saudi Arabia has nothing like that."
Indeed, today's kingdom of Saudi Arabia is a monarchy as absolute as they come. It's also the third state run by the House of Saud since the family's alliance with the puritan preacher Mohammed ibn Abdel Wahhab rallied the Bedouin of the Arabian peninsula under the banner of an uncompromising new creed (since known as Wahhabism) in 1745.
Turkey is the main reason that the previous two Saudi states ceased to exist.
The first disappeared when an Ottoman expeditionary corps comprised mostly of Turkish and Albanian soldiers seized the Saudi capital of Diriya, on the outskirts of Riyadh, on Sept. 11, 1818. The city was razed. According to a Russian diplomatic dispatch, the Turkish sultan then had the captured Saudi ruler, Abdullah bin Saud, escorted to Istanbul, alongside the chief Wahhabi cleric. After the deposed Saudi monarch was beheaded outside the Hagia Sophia, his body was propped up in public for three days with his severed head under his arm. (As for the Wahhabi imam, he was sent to Istanbul's bazaar for beheading, the diplomat reported.)
In Ottoman eyes, the Saudis were bloodthirsty murderers who had plundered the holy city of Karbala in Ottoman Iraq, slaughtering 4,000 civilian inhabitants (most of them Shiite), and later destroyed many shrines in Mecca and Medina. To celebrate the demise of the Saudi state and the liberation of the two holy mosques, the Ottoman sultan even released debtors from jail across his realm.
In the following decades, a different branch of the House of Saud rebuilt Diriya and reconquered much of the Arabian peninsula, prompting another Ottoman military invasion in 1871. Moving quickly down the Persian Gulf coast, the Ottomans deprived this second Saudi state of much of its territory, seizing the eastern lands that were later found to contain most of the kingdom's oil. Over the next few years, a rival Arabian tribe loyal to Turkey finished off what remained of the second Saudi realm.
All of this is not quite ancient history. The father of Saudi Arabia's current King Salman and the founder of the current Saudi state, King Abdulaziz, went from being a vassal of the Ottomans to fighting against the Turks during World War I, when he helped to expel them from Arabia for good. Some of Prince Mohammed's uncles took part in those battles against the Turks and their local allies.
The Saudis have worked hard since then to eliminate remaining traces of their country's Ottoman past. In 2002, they razed the historic Ajyad fortress in Mecca, one of many ancient Ottoman buildings that have gone under Saudi bulldozers. "The Saudi royal family will never forget how the Ottoman—the Turkish—soldiers came twice and destroyed their state. People tend to forget it in good times, but it comes back again and again," said Abdulkhaleq Abdulla, a prominent political scientist and former professor in the United Arab Emirates.
' With the Khashoggi affair igniting global outrage, Mr. Erdogan has seized his chance. '
The U.A.E. had its own spat with Mr. Erdogan last December over the Turkish record in Saudi Arabia, after the Emirati foreign minister retweeted a post accusing Fakhreddin Pasha, the last Ottoman governor of Medina, of looting. The governor had the holy city's ancient library shipped to Istanbul before Medina was besieged in the Arab Revolt, then refused to surrender, ordering the starving Turkish soldiers to subsist on grasshoppers even after the Ottoman sultan conceded defeat in 1918. Mr. Erdogan complained of the Emirati minister's "impudence," and Ankara renamed the street on which the U.A.E. embassy is located after the governor, whom Turkey considers a war hero.
Until Mr. Khashoggi's death, the Saudi-led alliance with the U.A.E. and Egypt seemed to be on the winning side across the region, with Turkey able to depend only on Qatar and possibly Sudan. In part that was because of President Donald Trump's early bet on Prince Mohammed—a cornerstone of his strategy to contain Iran. It was also a result of Mr. Erdogan's own moves, such as his overtures to Iran and Russia and his decision to imprison an American pastor, Andrew Brunson, while seeking the extradition of a Pennsylvania-based cleric whom Turkey accuses of organizing the 2016 coup attempt—all of which alienated Washington.
Now, with the Khashoggi affair igniting global outrage, Mr. Erdogan has seized his chance. Turkey's recent release of Mr. Brunson has allowed a thaw in relations with Washington. A series of leaks by Turkish officials, meanwhile, has forced Saudi Arabia—which initially insisted that Mr. Khashoggi had walked out of the consulate alive—to make an embarrassing about-face, admitting that the journalist was indeed killed by a specially dispatched team on its own diplomatic premises. The Saudis have dismissed two senior officials close to the prince over the incident and have continued to backtrack, saying on Thursday that the killing was premeditated and not, as they initially claimed, the accidental outcome of a "brawl."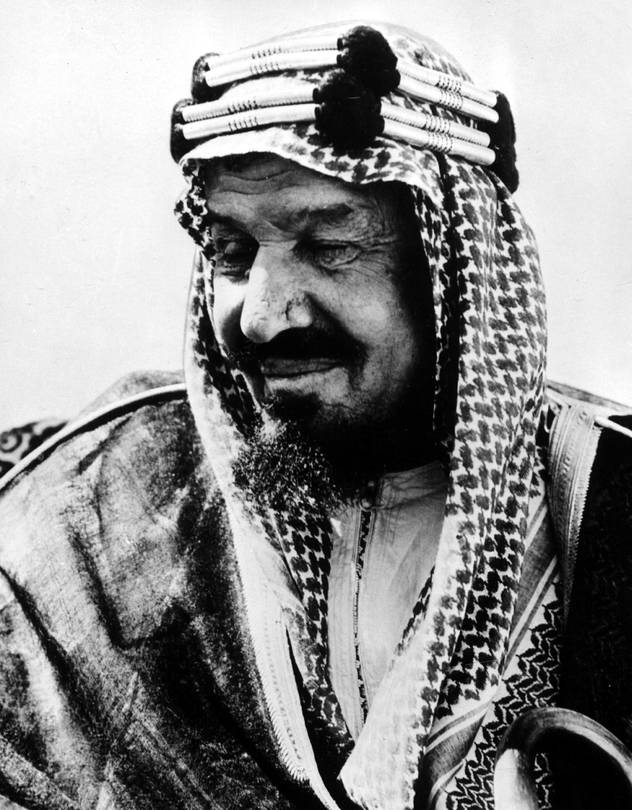 King Abdulaziz, also known as Ibn Saud, seen here in the 1950s, fought the Ottoman empire during the Arab revolt in World War I, and united Saudi Arabia as a state in 1932. Photo: Alamy
Mr. Erdogan wants the Saudi suspects to stand trial in Turkey and has pointed his finger at the highest levels of the Saudi state. Though Mr. Erdogan himself hasn't accused Prince Mohammed of killing Mr. Khashoggi, the Turkish leader's closest aides have done precisely that. Prince Mohammed "is one of the culprits of the murder," and Saudi Arabia is facing "arguably the most difficult process since it was founded," wrote Saadet Oruc, one of Mr. Erdogan's senior advisers, in a Turkish newspaper this week. Prince Mohammed "has Khashoggi's blood on his hands" and the murder will "linger like a curse" over the prince, concurred another adviser, Ilnur Cevik.
Mr. Erdogan's aim seems to be to render Prince Mohammed unpresentable on the world stage. More ambitiously, he may hope to pressure the prince's father, Saudi Arabia's elderly King Salman, to anoint another successor. "Turkey ultimately wants to erode the influence of MbS internationally, regionally, and to the extent possible, domestically," said Sinan Ulgen, head of the Edam think tank in Istanbul, referring to the crown prince by his initials. "And already, his image as a reformist leader has been tarnished."
Prince Mohammed, who made a phone call to Mr. Erdogan on Wednesday, insisted in his first public appearance since Mr. Khashoggi's death that relations between Turkey and Saudi Arabia remain excellent. Prince Mohammed added that as long as he, King Salman and Mr. Erdogan remain in power, nobody would be able to drive a wedge between the two brotherly Muslim nations.
In Ankara, however, memories are still fresh of how Prince Mohammed just a few months ago, on a visit to Egypt, bluntly described Mr. Erdogan as part of a "triangle of evil" alongside Iran and the extremists of Islamic State.
Though Saudi Arabia is far more repressive than Turkey, which does have some independent press and opposition parties, both countries are among the world's worst human-rights abusers—as, of course, is Iran. Turkey under Mr. Erdogan has imprisoned more journalists than any other state, press-freedom groups say. It has also pursued opponents abroad with its own program of renditions, though it doesn't have a death penalty.
Thanks to the Khashoggi affair, however, Mr. Erdogan's Turkey can finally credibly claim the moral high ground—a major boon for Ankara's regional ambitions.
"One of the astonishing ironies of the entire episode is how the leading jailer of journalists in the world is now a paragon of press freedom and protections," said Steven Cook, a senior fellow for the Middle East at the Council on Foreign Relations in Washington. "Not only that, but Turkey, which has been a wholly irresponsible actor on Iran, Syria, Middle East peace, even stability in the Horn of Africa, now looks like a source of regional stability in comparison to the reckless Saudis."
Write to Yaroslav Trofimov at yaroslav.trofimov@wsj.com