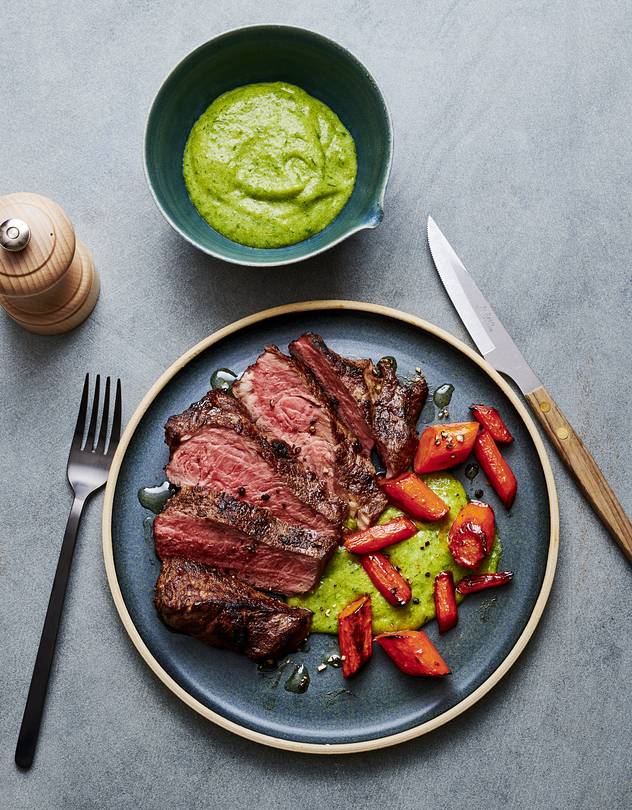 From Nonesuch in Oklahoma City, this modern recipe sticks to the essentials: just seared ribeye, a bright-green herb sauce and honey-roasted carrots, on the table in a half hour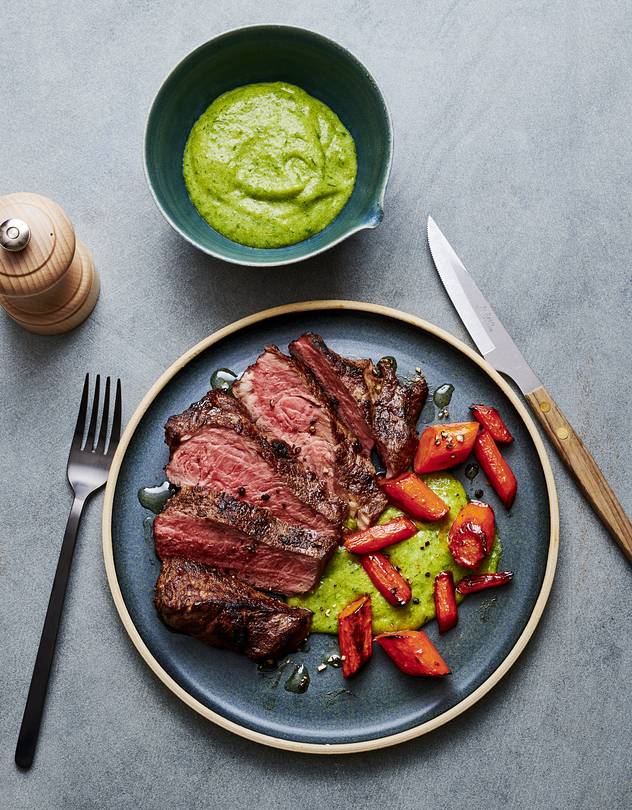 HOT TIP A quick blanching of the green beans draws out their sweetness and helps release starch to lend body to the sauce. Photo: Ted + Chelsea Cavanaugh for The Wall Street Journal, Food Styling by Jamie Kimm, Prop Styling by Carla Gonzalez-Hart
By Kitty Greenwald, WSJ, Updated Jan. 3, 2019 3:57 p.m. ET
The Chefs: Jeremy Wolfe and Colin Stringer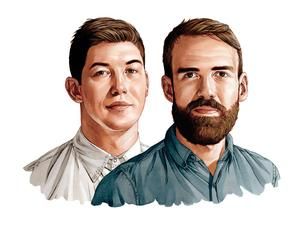 Illustration: MICHAEL HOEWELER
Their Restaurant: Nonesuch, in Oklahoma City
What They're Known For: Tasting menus that draw diners from far and wide. Modernist dishes that spotlight meticulously sourced ingredients.
IT'S HARDER than it used to be to get a reservation at Nonesuch in Oklahoma City. Thanks to a flurry of national attention, including a Best New Restaurant nod from Bon Appetit magazine, the 40-seat space is booked through the end of March, said chefs Colin Stringer and Jeremy Wolfe.
Locals as well as destination diners have embraced the innovative dishes on offer. "We're the first to serve a tasting menu in Oklahoma, period," Mr. Stringer said. "But there's no pretension. There's no five-minute spiel about the dishes."
The chefs' first Slow Food Fast recipe is a pared-down, modernist meal that will appeal to any carnivore. Slices of grilled sirloin fan out over a bright-green sauce of herbs, green beans, butter and lemon. A side of honey-roasted carrots provides sweet contrast.
The recipe's simplicity makes it remarkably adaptable. At Nonesuch, the chefs use bison rather than beef; turnips or broccoli might swap in for the green beans in the sauce. "You don't have to commit 100% to these ingredients," Mr. Wolfe added. "Allow for inspiration."
TOTAL TIME: 30 minutes SERVES: 4
2 boneless rib-eye steaks, about 1½ inches thick
Kosher salt and freshly ground black pepper
1 pound medium carrots trimmed, peeled and cut into 1½-inch-long pieces
1½ tablespoons honey
1½ tablespoons olive oil
Juice of 1 lemon
1½ cups green beans, trimmed and cut into 1-inch pieces
6 tablespoons butter, softened
1½ cups fresh parsley
1½ cups fresh basil
1 clove garlic
Season steaks generously with salt and pepper, and set aside. Light a grill and preheat oven to 425 degrees. In a medium roasting pan, toss carrots with a pinch of salt, honey, olive oil, half the lemon juice and a small splash of water. Roast carrots until fork-tender, about 25 minutes.

Meanwhile, make the sauce: Fill a medium pot with salted water and bring to a boil over high heat. Add green beans and blanch until bright green, about 1 minute. Strain and run beans under cold water to halt cooking. Transfer green beans to a food processor and blend along with butter, remaining lemon juice, parsley, basil, garlic and pinch of salt until emulsified and completely smooth. Keep sauce at room temperature until ready to use.

Grill steaks over medium-high heat until outside is charred and inside is medium-rare, about 3 minutes per side. Remove meat from heat and let rest at least 5 minutes before serving.

Slice steaks and salt cut sides lightly. Spread sauce over center of each plate and fan out sliced steak over sauce. Serve immediately with roasted carrots alongside meat.