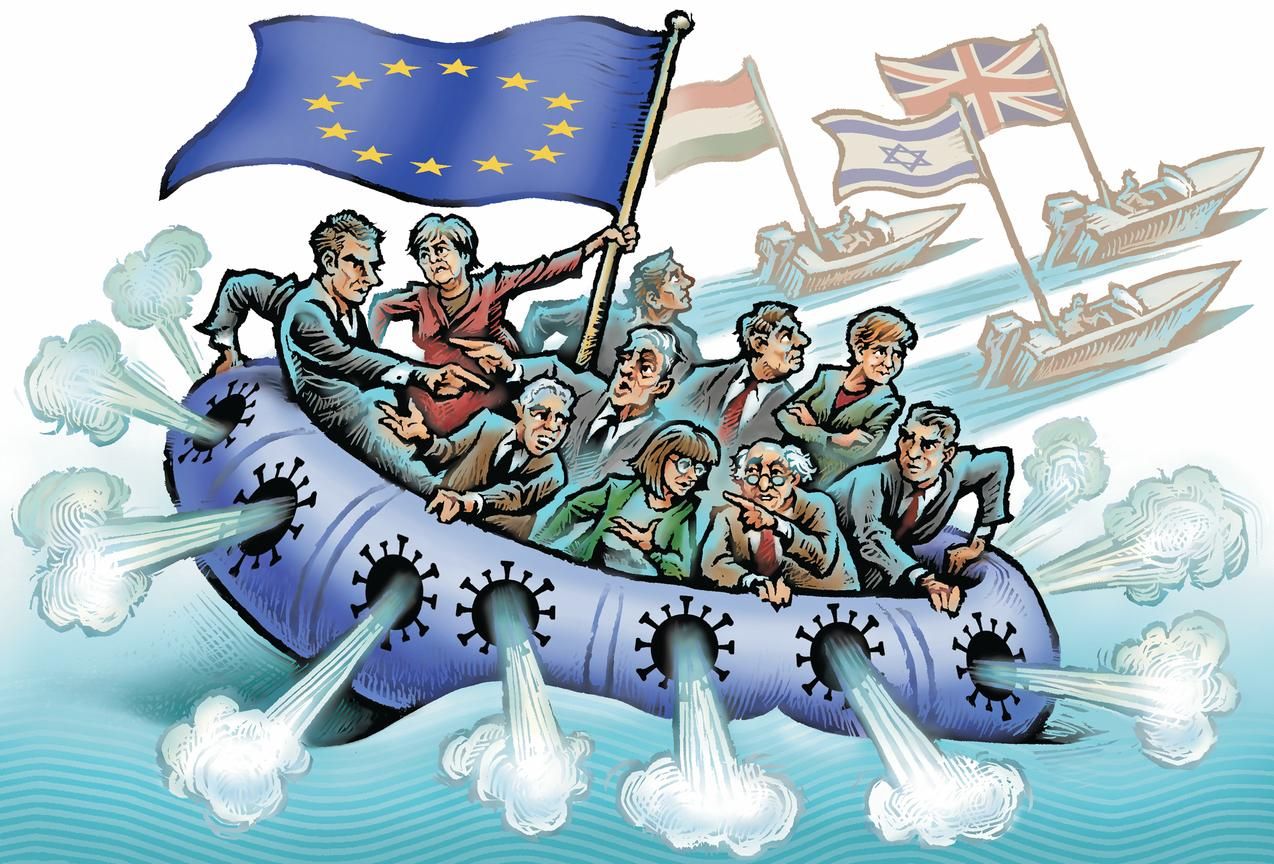 EU leaders made unforced errors with lockdowns and vaccine debacles. Their parties may pay.
Illustration: Phil Foster
Europe's leaders have told citizens that they're all in the Covid-19 crisis together. But in the U.K., roughly 40% of the population has received at least one Covid-19 shot. Across the water, only about 13% of the European Union's citizens have received a jab. In France, that number is closer to 10%.
In Britain, case rates and hospitalizations are falling, and the rate of excess deaths from Covid has reached zero. But in Germany, Chancellor Angela Merkel has warned of an "exponential" rise in cases. Ms. Merkel floated an Easter lockdown, which she quickly walked back. Italy, where more than one million people over 80 haven't been vaccinated, has entered another lockdown.
Paris and other major French cities are shut down. Critical-care hospital beds in the Paris region are full, according to Frederic Valletoux, head of France's hospital network. Mr. Valletoux has reported "exploding" numbers and says that only lockdowns can prevent an "unprecedented violent shock" to France's healthcare system.
Europe's third wave will cost thousands of lives and billions of euros. Summer vacationers, essential to the economies of Southern Europe, may have to stay away for a second year. This will increase the gulf in competitiveness and debt between the eurozone's rich north and poor south. Southern states could require another bailout, a scenario deeply unpopular with German voters, who go to the polls in national elections in September.
Europe's elected leaders, French President Emmanuel Macron and Ms. Merkel in particular, are responsible for the tragedy of errors that has caused Europe's vaccine fiasco. They and their parties are starting to pay the political price.
In mid-March regional elections, Merkel's Christian Democrat Union had its worst-ever showing in two of its historical strongholds. In the southwestern state of Baden-Württemberg, which the CDU ruled for 58 years until 2011, Ms. Merkel's party won only 23% of the vote. In Rhineland-Palatinate in the West, once the launchpad for the CDU's Helmut Kohl, the party finished at 26%, far behind the center-left Social Democrats.
The CDU is sliding in national polls, too. The bungled vaccination program, corruption scandals and regional defeats all reopen the battle to succeed Ms. Merkel when she retires after the election. In January, the CDU's membership elected Armin Laschet as party leader, but he will face a challenge from Markus Söder of the CDU's Bavarian sister party, the Christian Social Union, which is less centrist than Ms. Merkel and Mr. Laschet. This isn't the legacy Ms. Merkel, in office since 2005, had in mind.
In France, where presidential elections will be held in April 2022, polls show the populist Marine Le Pen beating Mr. Macron in the first round of voting. He is still predicted to defeat her in the head-to-head second round—the two-stage French system is designed to thwart nationalist radicals like Ms. Le Pen—but Mr. Macron's second-round margin is shrinking toward the margin of error.
For two decades, France's centrists have relied on the "republican front," in which moderate voters of left and right unite against radical candidates. But that coalition is crumbling. In 2002 Jacques Chirac beat Jean-Marie Le Pen, Ms. Le Pen's father, by the biggest margin in any French presidential election, 82% to 18%. In 2017, Mr. Macron beat Ms. Le Pen by 66% to 34%. Polls from early March predict 53% for Mr. Macron and 47% for Ms. Le Pen.
The errors that are reshaping EU electoral maps were avoidable. Mr. Macron and Ms. Merkel tried to turn a healthcare crisis into an opportunity to prove the superiority of Brussels' technocracy. While Boris Johnson's government in the U.K. spread its bets and ordered vaccines from multiple sources as quickly as possible, their counterparts across the English Channel gambled on two French vaccines, one from the pharmacological company Sanofi, the other from the Pasteur Institute, a research nonprofit.
Sanofi says it may have a vaccine by the end of the year at the earliest. In January the Pasteur Institute abandoned its main vaccine candidate. François Bayrou, an ally of Mr. Macron and France's commissioner for long-term planning, blames the Americans: "It is not acceptable that our best researchers, the most brilliant of our researchers, are sucked up by the American system," he said earlier this year.
At first, Mr. Macron and Ms. Merkel played down Britain's success by disparaging the AstraZeneca vaccine's efficiency. Mr. Macron claimed it was "quasi-ineffective" for those over 65, and Ms. Merkel said she wouldn't take it as a 66-year-old—concerns belied by data from the U.K. Then the EU suspended use of the AstraZeneca shot under German pressure, due to unfounded concerns about blood clots.
Despite this, France and Germany blame their problems on Britain, which they claim withheld supplies of the AstraZeneca vaccine. Ursula von der Leyen, president of the European Commission, has called for impounding vaccines on EU territory. At an EU summit on Thursday, the commission endorsed limits on the EU export of vaccine materials to states with higher inoculation rates. And unlike the U.K. government, the EU is falling behind on its commitment to the United Nations program to vaccinate poorer nations.
Meanwhile, the EU's supposedly unified response is turning into a free-for-all. Germany has secured a stash of 50 million Moderna shots. Hungary has broken ranks by approving and buying its own supply of the Russian-made Sputnik V vaccine. The prime minister of Slovakia has offered to resign after buying Russian vaccine supplies without the approval of his coalition partners.
The EU has turned the Covid crisis into an opportunity for Vladimir Putin to profit from vaccine diplomacy. Its mishandled response has undermined the implicit promise of technocracy—the surrender of liberty for security—and discredited the ruling centrists in France and Germany. Nations like Britain, Israel and Hungary have acted independently. The U.S. is rapidly vaccinating its population. As with its currency, the EU has consistently overpromised and underperformed. The EU won't be a casualty of Covid-19. But it is dying a slow death of a thousand self-inflicted cuts.
Mr. Green is deputy U.S. editor of the Spectator.