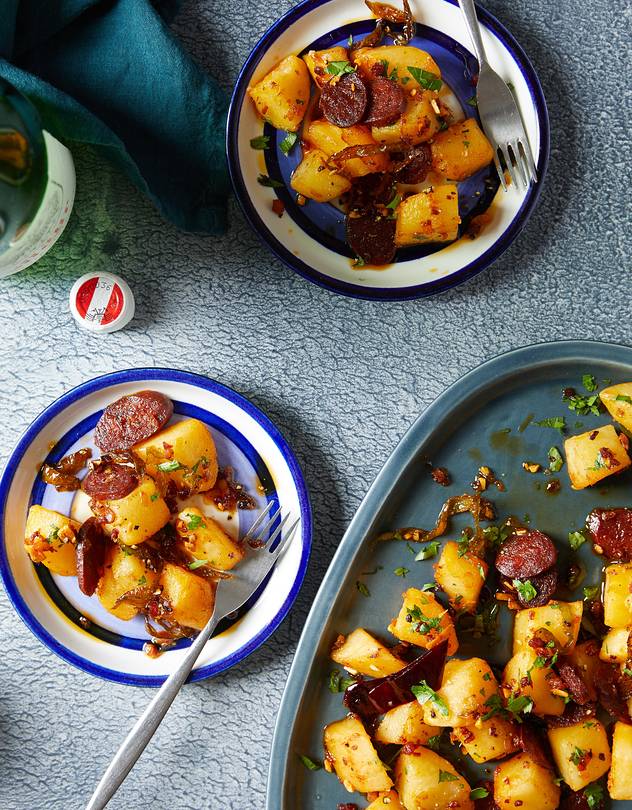 The Most Warming Winter Stew
This hearty bowlful of potatoes and chorizo comes together quickly. It makes an ideal chilly-weeknight meal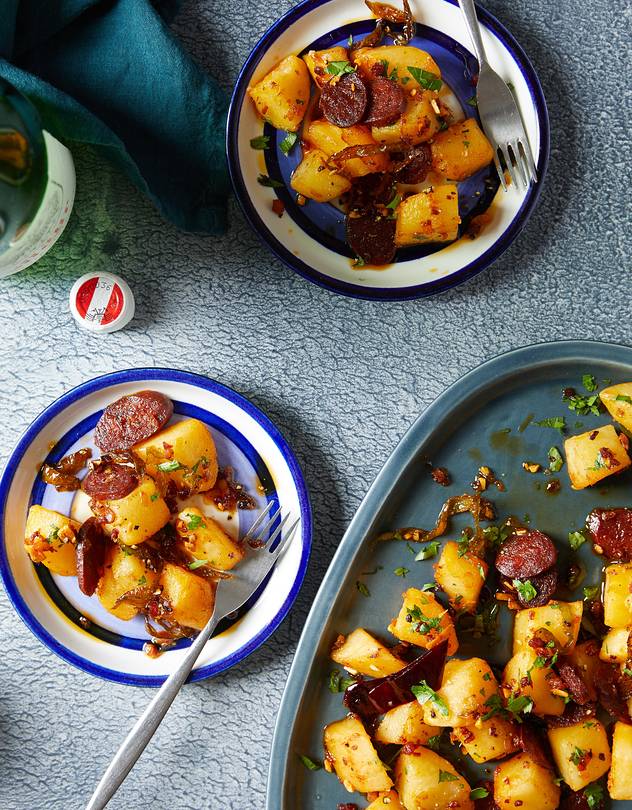 HOT LINKS Cured and air-dried Spanish-style chorizo provides satisfying chewy bites in this hearty stew. Photo: Kate Sears for The Wall Street Journal, Food Styling by Jamie Kimm, Prop Styling by Carla Gonzalez-Hart
By
Kitty Greenwald
Nov. 16, 2018 1:03 p.m. ET
The Chef: Alex Raij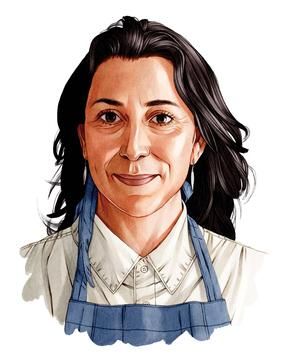 Illustration: Michael Hoeweler
Her Restaurants El Quinto Pino, Txikito, La Vara, and Saint Julivert Fisherie, all in New York City.
What She's Known For Regional-Spanish cooking that honors tradition while embracing creativity. Flavor over frippery.
OVER THE YEARS, Alex Raij and her husband, fellow chef Eder Montero, have opened a string of New York restaurants, primarily focused on Spanish cuisine. "We took home cooking and preserved its spirit and its layers of flavor by cleaning it up just a little at the end," said Ms. Raij.
This Basque-style potato, chorizo and pepper stew, Ms. Raij's final Slow Food Fast contribution, is at once deliciously homey and thoughtfully composed. "There should be a thin film of fat floating on the surface," said Ms. Raij. "And the potato should break apart, and some bits should be more crumbly and dissolved than others." Don't fret over the precision of your chopping. Embrace the imperfections that bring true depth and texture to home-cooked meals. It's really about what works for you. "When I cook, I taste and taste until it's right," said Ms. Raij.
As the stew simmers, the potatoes release their starch to thicken the broth. Hunks of bacon, onions, green peppers and chorizo make each spoonful a surprise. "You actively eat this with a hunk of bread, pushing bites onto your spoon," Ms. Raij said.
To her, this is the essence of Spanish eating. "People are drawn to this food because it's so interactive," she said. The cooking is satisfying, too—engaged and intuitive. Taste as you go, inhale deeply as the pot simmers and you really can't go wrong.
TOTAL TIME: 35 minutes SERVES: 4
2 tablespoons olive oil
4 cloves garlic, smashed
1 medium Spanish onion, diced
2 bay leaves
1 cup diced pancetta or bacon
1½ green bell peppers, cut into thin strips
3 guajillo or other large, mild dried chiles, seeded and toasted
1 tablespoon pimentón or smoked paprika
½ cup white wine
3 medium Russet potatoes, cut into rough bite-size pieces
3 tablespoons minced parsley, plus more for garnish
1 (5-ounce) link Spanish chorizo, cut into ¼-inch rounds
5 cups chicken stock
1. Set a medium heavy pot over medium heat. Add olive oil, half the smashed garlic, onions, bay leaves and bacon. Sauté until bacon begins to brown, about 2 minutes. Add green peppers and dried chiles and continue to cook until onion is translucent, about 4 minutes.
2. Stir in paprika and cook until aromatic, about 1 minute. Add wine and simmer until alcohol cooks off, about 2 minutes. Mince remaining garlic cloves.
3. Stir in potatoes, parsley, minced garlic and chorizo, and cook 1 minute more. Pour in stock and simmer until potatoes are very tender, about 25 minutes. Garnish with parsley.